<![if !vml]>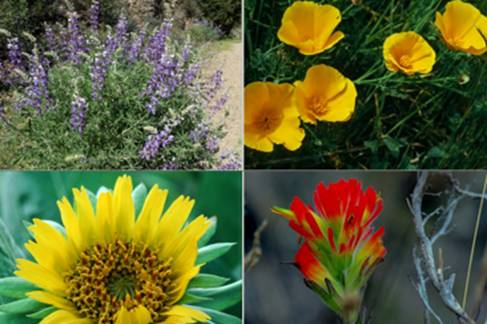 <![endif]>   
Wendy Dreskin has developed these Flash Cards as part of her Junior Botanist program, offered to grammar school kids throughout Marin County.  They're an excellent way to acquaint yourself with 60 of the most common wildflowers you'll find in Marin.
How To Print Your Own Flash Cards
Each link below brings up a PDF file that has a two-sided page – four pictures on the front and descriptions on the back. 
To print,
<![if !supportLists]>· <![endif]>Click the printer icon (Or choose File|Print).
<![if !supportLists]>· <![endif]>Choose a printer.
<![if !supportLists]>· <![endif]>On the print options page, if you can print two-sided, choose that option and click [Print].  If the descriptions don't line up with the photos, change the print options for how the printer flips the page.
<![if !supportLists]>· <![endif]>If you print one-sided, on the print options page, print only Page 1, then reinsert the paper so it will print on the other side, and print only Page 2.  Check that the descriptions line up behind the photos, and try different orientations for the second printing if needed.
Once you figure out how to get descriptions on the back to line up with photos on the front, you'll get best results with a color printer, using photograph paper.  For really long life in the field you can get pages laminated at a printing store like Kinkos or FedEx.
Flash Card Links
1 – Douglas Silver Lupine, California Poppy, Mule Ears, and Indian Paint Brush
2 – Milk Maids, Douglas Iris, Buttercup and Yarrow
3 – Mission Bells, Sun Cups, Leopard Lily and Blue-Eyed Grass
4 – Footsteps of Spring, Indian Warrior, Seep Monkeyflower, Purple Sanicle
5 – Tidy Tips, Tolmie Star Tulip, Columbine, Meadow Chickweed
6 – Hounds Tongue, Fairy Bells, Morning Glory, Larkspur
7 – Fiddleneck, Shooting Stars, Checkerbloom, Cow Parsnip
8 – Poison Hemlock, Baby Blue Eyes, Hair Hog Fennel, Hillside Pea
9 – Owl's Clover, Star Lily, Cobweb Thistle, Pacific Star Flower
10 – Fairy Slipper, Chinese Houses, Miner's Lettuce, Sneezeweed
11 – Yellow Mariposa Lily, Indian Pink, Cream Sacs, Red Larkspur
12 – Bitterroot, Rein Orchid, Red Ribbons, Butter and Eggs
13 – Chick Lupine, Bee Plant, Wakerobin, Fat Solomon
14 – Slim Solomon, Two-Eyed Violet, Redwood Violet, Streamside Violet
15 – Tomcat Clover, Purple Clarkia, Baby Stars, White Rein Orchid